Fast forward to today where it seems like pre-workout formulas have lost their luster. The hype around them no longer dominates the sport supplements industry. But that's all about to change! We've gone back to our roots, returned to the good-old days of balls-to-the-wall, all-out, full-steam ahead. We're back at that nothing-can-stop-me feeling with a new, cutting-edge technology that allowed us to develop a pre-workout supplement that's worthy of the 1.M.R™ name again.
With all new ingredients and old favorites, 1.M.R™ will raise your energy and stamina through the roof, have your muscles pumped to the max, mentally focused and dialed in, maximizing every single effort you make when you train. Anyone who takes training seriously, seriously needs this pre-workout supplement. It doesn't just step up your endurance, the extra-strength, ultra concentrated 1.M.R™ pushes you to go past your own limits, taking you to that next level where real transformations happen.
1.M.R™ is designed to power you through one more rep, every time…especially when you least expect it and think you've worked your muscles to failure. It connects your body and mind, giving you more focus and clarity to get you in the precise zone for next-level results. Forget just going through the motions of exercising; with 1.M.R™ you can expect to work out with purpose and direction. Keep up with your training program, every day, every time.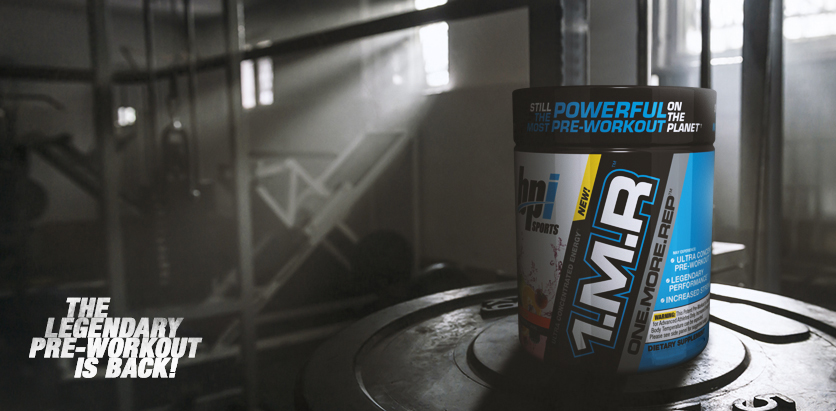 1.M.R™ features an energy-boosting combo of caffeine, yohimbe and theobromine, so there's no turning back once you take it. Just get ready to power through, pump, sweat, and grunt. Combined with other key performance-enhancing ingredients like CDP-Choline and GABA for pinpoint mental clarity and focus, as well as carnitine and GBB-EEC to help burn fat for fuel, 1.M.R™ is "still the most powerful pre-workout on the planet."
No matter your fitness goals, whether it's strength, muscle-building, energy, endurance or performance, 1.M.R™ pre-workout powder will you get there.
Get ready… The legendary 1.M.R™ from BPI Sports is back.