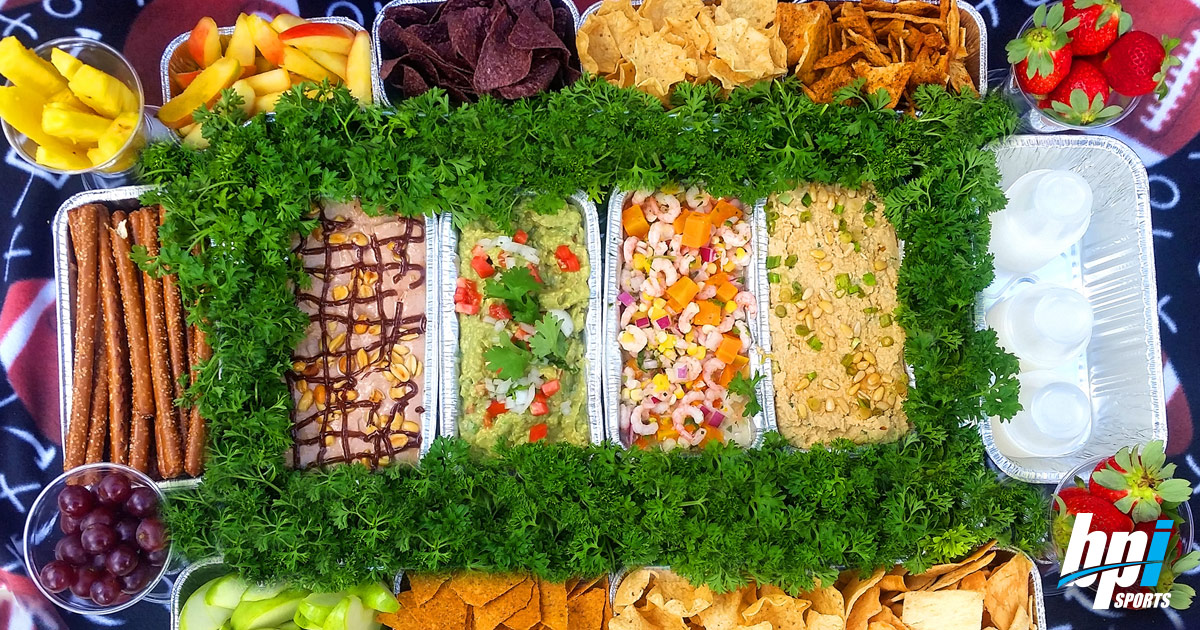 THE 100-YARD DIP SPREAD
GO BIG OR GO HOME! Score some major points at your BIG GAME PARTY with this stadium-size multi-flavored and delicious 100-Yard Dip Spread. This healthy spread has four quarters of goodness to choose from or you can enjoy them all!
Our Line-up for today's game is:
DIP #1: PROTEIN-PACKED PEANUT BUTTER AND NUTELLA FRUIT DIP
Made with BPI's ISO HD™ and delicious hazelnut spread, served with red and green apples.
DIP #2: FRESH GUACAMOLE
We're going green with some Fresh-Mex! This ultra-clean dip will have everyone gathering up for a huddle. Made with fresh Hass avocados and lime juice.
DIP #3: PINEAPPLE SHRIMP CEVICHE IN PANTHER'S MILK
This protein-packed lemon and lime cooked shrimp ceviche has a nice kick with a bit of sweetness.
DIP #4: SESAME HUMMUS
Made with organic garbanzo beans and tahini, this authentic and favorite dip is high in fiber and big on taste.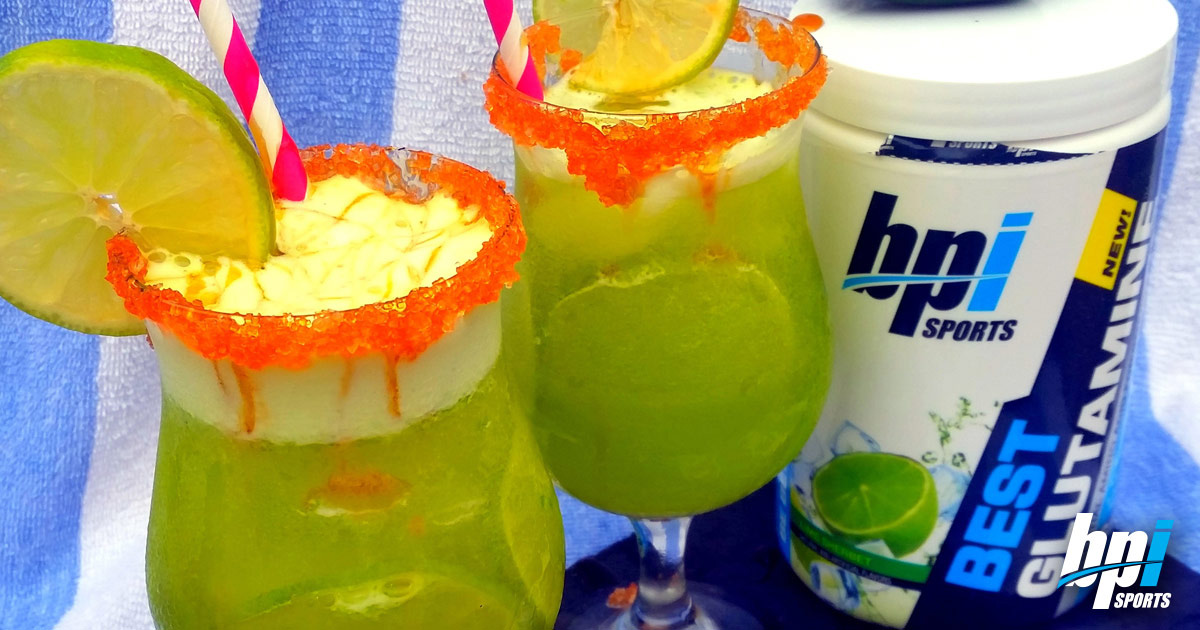 SPICY LIME SHERBET MARGARITAS
Score some major points at your Big Game party with this spicy and refreshing twist on an all-time classic drink using BPI Sports Best Glutamine™ (alcohol is optional). It's much better to have a beverage with something healthy in it as opposed to those high fructose corn syrup additives contained in most traditional margaritas mixes. This margarita will help you minimize muscle breakdown and improve protein metabolism for recovery, immune system health and glycogen replenishment (vital for restoring energy levels especially after a long day of Football fun!).
**DRINK RESPONSIBLY**
INGREDIENTS:
2 scoops of Best Glutamine™ Lime Sherbet
12 oz. water
1 tbsp of jalapeno
2 tbsp coconut nectar
1 squeezed lime juice
1 lime cut into thin slices
Kosher sea salt, large granules
Orange colored sugar sprinkles
DIRECTIONS:
Rim the glass with coconut nectar and dip it in the salt and sugar mix. Place 4 lime slices at the bottom of the glass and add ice. In a bullet blender, mix the first 5 ingredients. Pour into Glass. As the foam begins to rise, drizzle some more coconut nectar over it. Enjoy!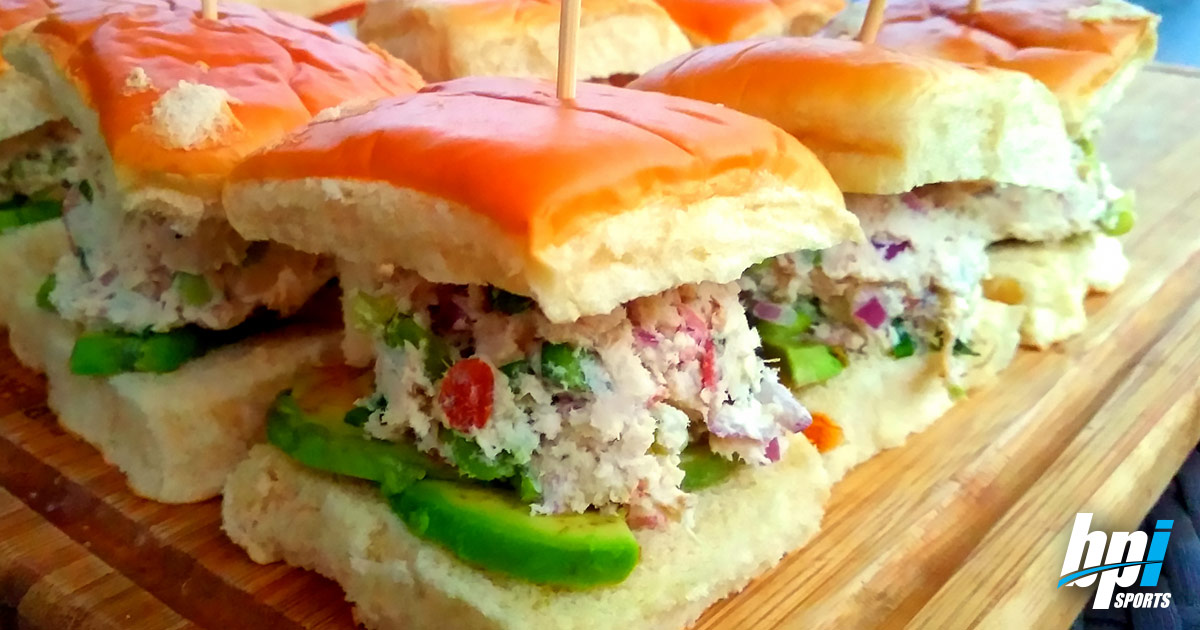 FIRST DOWN SHREDDED CHICKEN SLIDERS
Are you ready for THE BIG GAME? Score big with these healthy and delicious sliders. With 22 grams of protein per serving, 21 grams of carbs ,6 grams of fat and only 3 grams of sugar, you can't go wrong! These sliders will satisfy even the hungriest of football fans.
**Recipe yields 36 sliders.
INGREDIENTS:
6 chicken breasts
2 cups edamame
6 green onions chopped
10 culantro leaves
Half a red onion, minced
1 cup blanched slivered almonds
2.5 cups fat-free, Greek yogurt
3 Hass avocados, cut into thin strips
36 strips low sodium, gluten-free turkey bacon, chopped small
N'orleans Cajun seasoning
4 cups low sodium chicken broth
3 Tbsp coconut oil
DIRECTIONS:
Season the chicken breasts with N'orleans Cajun seasoning. Heat sauce pan to high heat, once hot add the coconut oil. Cook the chicken breast for 1 minute on each side, leaving the inside raw. In a crock pot, add the chicken broth and the chicken breasts, then cook on high for a minimum of 5 hrs, or until the chicken shreds easily.
Transfer the chicken to a cutting board and pull it apart. In a bowl, add the chicken, edamame, green onions, culantro, red onions, almonds, Greek yogurt and turkey bacon. Mix together using a large spoon until well blended.
Separate the slider buns, then place 2 strips of avocados on each. Using an ice cream scoop, add one scoop of the mix, then top it with the other bun. Add a skewer through the middle to keep it stable. Repeat the process for the rest of the sliders. Enjoy!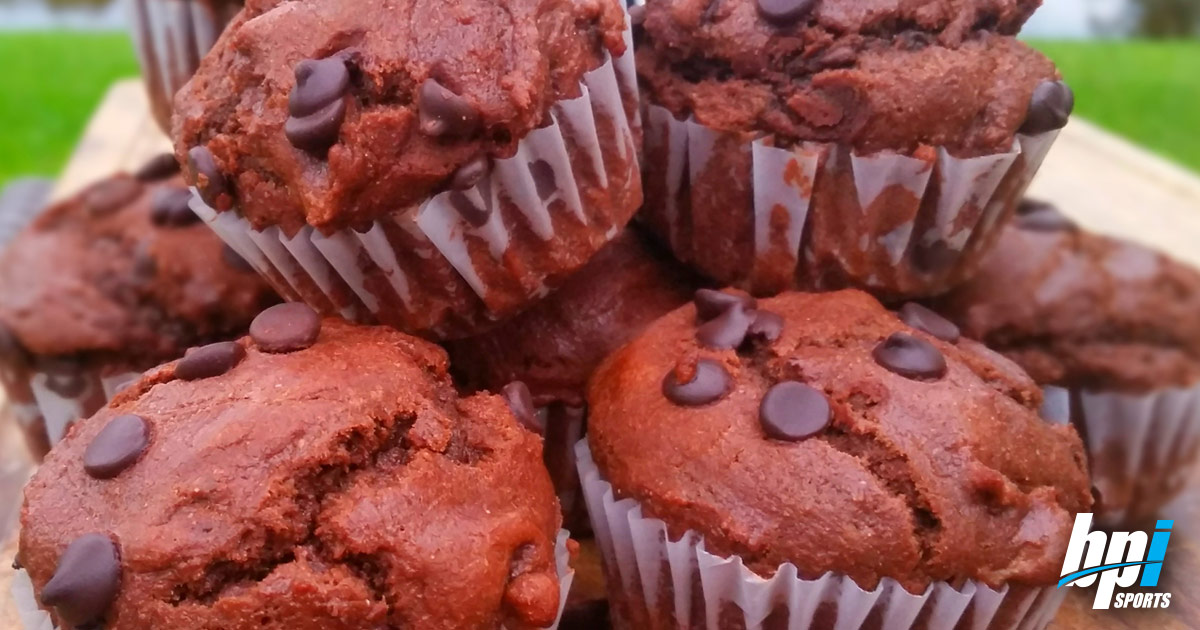 CHOCOLATE CHIP PROTEIN MUFFINS
Can't forget about dessert! This scrumptious, moist, tasty and full-of-chocolate muffins not only have a great nutritional profile, but these protein muffins are so good! Even better the next day, in fact!
INGREDIENTS:
3 scoops of BPI Sports Best Protein™ Chocolate Brownie
2 cups whole wheat flour or coconut flour
1 cup Stevia Baking Blend
1/4 cup coconut brown sugar
3/4 cup Lily's Dark Chocolate Chips Sweetened with Stevia
1/2 cup unsweetened cocoa powder
1 tsp baking soda
1 tsp vanilla extract
1 egg
1 cup plain Greek yogurt
1/2 cup almond milk
1/2 cup coconut oil
1/4 Lily's Dark Chocolate Chips Sweetened with Stevia
DIRECTIONS:
Preheat oven to 400 degrees F (200 degrees C). Grease 12 muffin cups or line with paper muffin liners.
Combine flour, protein powder, stevia, 3/4 cup chocolate chips, cocoa powder, and baking soda in a large bowl. Whisk egg, yogurt, milk, vanilla extract, and coconut oil in another bowl until smooth; pour into chocolate mixture and stir until batter is just blended.
Fill prepared muffin cups 3/4 full and sprinkle with remaining 1/4 cup chocolate chips.
Bake on the middle rack, in a preheated oven, until a toothpick inserted into the center comes out clean, about 17 minutes. Cool in the pans for 10 minutes before removing to cool completely on a wire rack.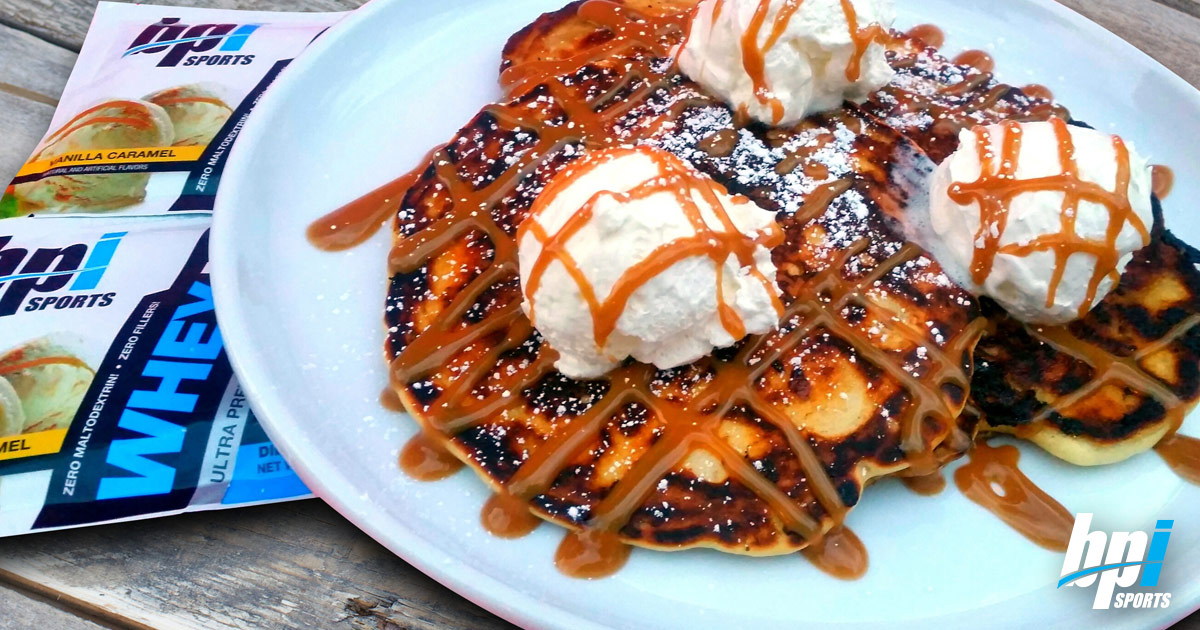 VANILLA CARAMEL SWIRL PROTEIN PANCAKES
Does the word "insanely delicious" come to mind? Because that's exactly what these protein packed pancakes are. With 135 calories and 9 grams of protein, start your Big Game Day strong with the perfect protein pancake recipe.
**Recipe yields 8 pancakes.
INGREDIENTS:
2 scoops of BPI Sports Whey HD™ Vanilla Caramel
1.5 cups Hungry Jack Complete Wheat Blends Pancake & Waffle Mix
3/4 cup of water
Smucker's Sugar Free Caramel Sundae Syrup or Walden Farms Caramel Syrup
Cool Whip
Coconut spray oil
Walden Farms Pancake Syrup
DIRECTIONS:
In a mixer or using a wooden spoon (don't use a blender), mix the first three ingredients. If the mixture is too dry, add more water. Too wet add? Add more pancake mix. Then, heat a medium sized frying pan to medium heat.
For an average sized pancake, use a 1/4 cup measuring cup, scoop some pancake mix and pour in the center. Do not move the scoop as your pour, so the mixture distributes out evenly forming a natural round pancake.
Swirl a line of caramel syrup on top of the pancake and cook pancake until you see bubbles, then flip and cook for 1 minute. Using an ice cream scoop, scoop a ball of cool whip on top of the pancake and drizzle some more caramel and pancake syrup.
Make sure to follow ProTreats on Instagram and Facebook for more recipes and delicious creations!
www.ProTreats.com is now live! Visit their site to buy some ready-made, mouthwatering ProTreats made exclusively with BPI Sports protein!
Chef Geo is a member of Team BPI Sports.