ProTreats' Chef Geo shares his savory menu ideas on how to make your get togethers a little healthier, from protein-filled desserts recipes to grilling protein the right way.
Spinach Salad with Broiled Salmon & Strawberry Vinaigrette
Ingredients (for 1 serving):
200g of wild caught salmon
1/2 cup organic quinoa
1/2 cup kale blend
2 cups of spinach
Slivered almonds
2 strawberries, sliced
For vinaigrette:
¼ cup lemon juice
1/8 cup coconut oil in liquid form
1/8 tsp pink salt
1/8 tsp pepper
1/8 tsp garlic powder
4 strawberries
1/8 cup vinegar
Instructions:
Blend the dressing ingredients together at a high speed and refrigerate for 30 minutes.
Next, brush the salmon with the dressing then broil it for about 7 minutes on the upper rack. The salmon will start to char at the tail. Keep your eye on it so it doesn't over char.
Toss salad ingredients in the dressing, then top with the quinoa and kale blend. Next, add that delicious piece of salmon, and finish it off with the strawberries and almonds.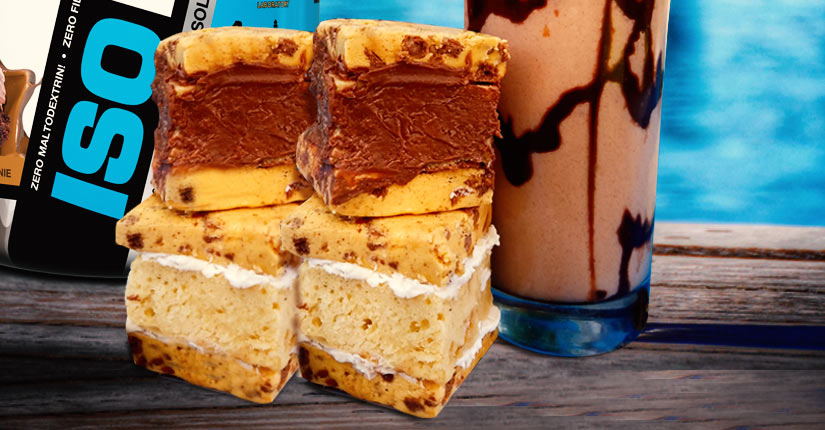 Cookies n' Cream Protein Bar Sandwich
Ingredients (Makes 6 Cubed Protein Bar Sandwiches):
2 scoops of BPI Sports Whey HD™ protein powder in Cookies 'n Cream flavor
6 Best Protein Bars™ in Cookies 'n Cream flavor
1/2 cup of butter, softened (2 sticks)
3/4 cup baking Stevia
1/2 tsp baking powder
1/4 tsp salt
3/4 tsp vanilla extract
2 large eggs at room temperature
1.5 cups King Arthur Unbleached Cake Flour
3/4 cup almond milk
9×9 baking pan
Pillsbury® Creamy Supreme Sugar-Free Frosting in Vanilla or Chocolate
Instructions:
Preheat your oven to 350 degrees Fahrenheit and lightly grease your pan. In a mixing bowl, beat together butter, sugar, baking powder, salt and vanilla on medium-high speed until the mixture seems pale and fluffy. It should take about three minutes.
Next, add one egg at a time, still beating and thickening the mixture. Make sure to scrape the mixing bowl after every egg. Then add in the flour and beat some more.
Pour the mixture in the baking pan and let it bake for about 24 minutes. Place a toothpick into the center of the cake and if it comes out clean, you'll know it's ready. Cool for 15 minutes and loosen edges with a knife before frosting.
Spread a thin coat of icing on the top of the cake, using a cooling rack to help. Place three Best Protein Bars™ on the top. Carefully flip the cake over so the protein bars are on the bottom. Add another layer of icing and the remaining three Best Protein Bars™. Trim off excess cake and cut into smaller pieces.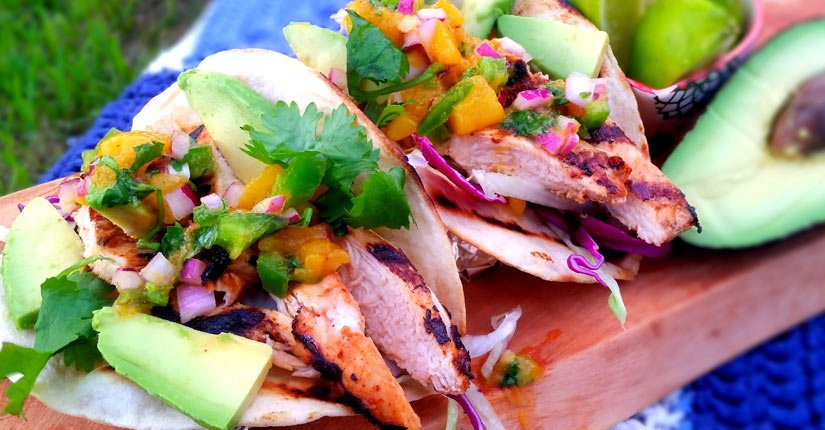 BBQ Chicken Tacos with Cilantro, Mango Salsa
Ingredients (Makes 6 Delicious Tacos):
4 boneless, skinless chicken breasts
Juice of 1 lime
6 Tbsp of your favorite barbecue sauce, plus more for serving
2 Tbsp sesame oil
Pink salt and freshly ground black pepper
1 large mango, peeled, pitted and diced
6 fresh white, whole wheat or flour tortillas
Spray oil for tortillas
2 Tbsp small red onions, diced
2 Tbsp shredded lettuce
2 Tbsp shredded purple cabbage
2 Tbsp diced jalapenos
12 slices avocado
12 fresh cilantro leaves, chopped, plus more for garnish
1 tsp cayenne pepper
1 tsp cumin
Instructions:
In a baking dish, marinate the chicken breasts in the barbecue sauce. Cover and refrigerate for 1 hour.
Heat the grill to medium-high heat.
Remove the chicken from the sauce and grill until completely cooked, about 4 minutes on each side, depending on thickness. Set aside at room temperature.
In a bowl, combine the mango, cumin, cayenne pepper, onion, jalapeno, cilantro, lime juice and sesame oil. Season with salt and pepper and set aside.
Spray both sides of the tortillas with oil and place on the grill for about 30 seconds on each side and set aside. Don't let them get crisp.
Cut the warm chicken into thin strips. Lay the tortillas on a clean surface, and top each with some lettuce, cabbage, chicken, mango salsa and avocado. Quickly fold the tortillas and plate. Sprinkle the mango mixture and add cilantro. You can also top with sour cream or Greek yogurt.