Now that you know the basics, let's discuss the foods you can eat to maximize the ketosis state. We've put together a list of keto-friendly foods by category to help you get started on your ketogenic diet journey.
Healthy Fats:
Fats will make up the majority of your caloric intake on a keto diet, but that doesn't mean you can eat whatever you want. It's important you understand which fats are beneficial and which are harmful. For example, saturated fats are good for cooking since they have a long shelf life and high smoke points. For other healthy fats, follow the guide below:
Avocado
Ghee (clarified butter), cocoa butter, coconut butter
Tallow
Cream
Lard
Coconut oil, olive oil, macadamia oil, red palm oil, palm shortening, duck fat
Protein:
Beef
Bacon
Bison
Chicken
Deer
Deli meat
Duck
Eggs (of any animal)
Elk
Goat
Hot Dogs
Lamb
Pepperoni
Prosciutto
Pork
Salami
Sausages
Turkey
Veal
Wild Boar, wild turkey
Fresh Fruits & Vegetables:
Most fruits are off limits when you're keto dieting, but small amounts of berries are okay. For vegetables, go for leafy greens and avoid the root veggies to keep your carbs low.
Blackberries, cranberries, strawberries, raspberries
Lemon, lime
Onions, garlic, chives
Arugula, kale, romaine lettuce, butterhead lettuce, spinach
Artichoke, pumpkin, jicama
Asparagus, carrots, celery, eggplant
Cucumber, tomatoes, peppers, endives
Cabbage, cauliflower, bok choy, broccoli, chicory greens
Chard, radicchio, okra, turnip greens, spaghetti squash
Shallots, leeks, zucchini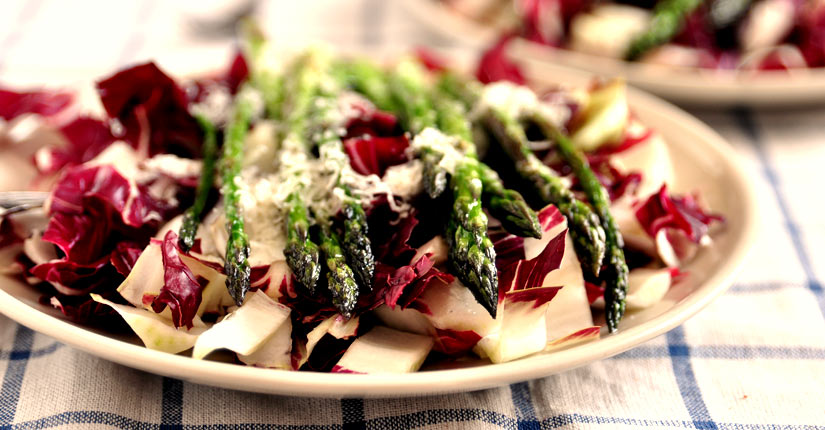 Fish & Seafood:
Fish is lean and a healthy source of protein and seafood is a super nutrient-dense food, so for your daily moderate protein intake, fish is a great idea when keto dieting.
Anchovies, bass, cod, eel, flounder, haddock
Halibut, mackerel, mahi-mahi, red snapper, salmon (and smoked salmon)
Tuna (including Albacore), tilapia, sole, grouper, trout
Caviar, crab, lobster, mussels, oysters
Shrimp, scallops, squid
Dairy and Drinks:
When beginning a ketogenic diet, don't eat dairy foods for about a month. When you slowly introduce them back, use the list below as a guide. Just make sure they're the full fat version:
Yogurt
Raw cheeses, cottage cheese, cream cheese
Whipping cream
Butter, ghee
Sour cream
Coconut milk, almond milk, cashew milk
Coffee, tea, club soda
Broth
Nuts, Seeds & Other:
Nuts are delicious as a snack and full of omega-6 fats, but you should be careful since it's easy to overeat them. Note that they count as a carbohydrate when keto dieting.
Almonds, hazelnuts, pine nuts, pistachios
Pumpkin seeds, pecans, cashews, walnuts
Sesame seeds, sunflower seeds, chia seeds
NO PEANUTS, IT'S A LEGUME. ALL LEGUMES ARE TO BE AVOIDED WHEN ON A KETOGENIC DIET
Mayonnaise (made with good oils)
Salad dressings
Pork rinds, beef jerky, pickles, cod liver
Vinegars (without added sugar or wheat)
Mustard, hot sauce, fish sauce
Gelatin,vanilla extract, stevia
Almond flour, 100% dark chocolate, cacao nibs
When keto dieting, make sure you experiment with fresh herbs and spices to add more flavor to every dish. Aside from your go-to salt and pepper, try basil, curry powder, cumin, nutmeg, cloves, tumeric, cilantro, chili powder, rosemary, thyme and ginger.
Last but certainly not least: BEST PRE WORKOUT™
If you find that you have less energy in the first few weeks of starting your ketogenic diet, or you have difficulty focusing, don't panic. These symptoms are common as your body adapts to a new way of fueling up. Pre-keto diet, your body would burn carbs for fuel and energy, but when dieting it will start getting its energy from fat. This is why you may feel a bit lethargic.
To help with that, especially if you're working out regularly, try BPI Sports BEST PRE WORKOUT™. This pre-workout supplement will help you counteract the challenges of the first few weeks. You'll have more energy, you'll find that you can exercise more intensely at the gym, save muscle mass and have more mental clarity and focus. BEST PRE WORKOUT™ boasts the organic compound beta-hydroxybutyrate (BHB) in sodium, magnesium and potassium in salt form. Ingesting BHB has been shown to raise blood ketones levels for two and a half to three hours after ingestion, so there's a substantial decrease in your need for oxygen after taking BHB salts. With BEST PRE WORKOUT™, you'll be able to perform your workout routine at a greater level during that window.