For a seabass recipe that's full of savory, oriental flavors, give Chef Geo's Sea Bass Salad Bowl dish a try: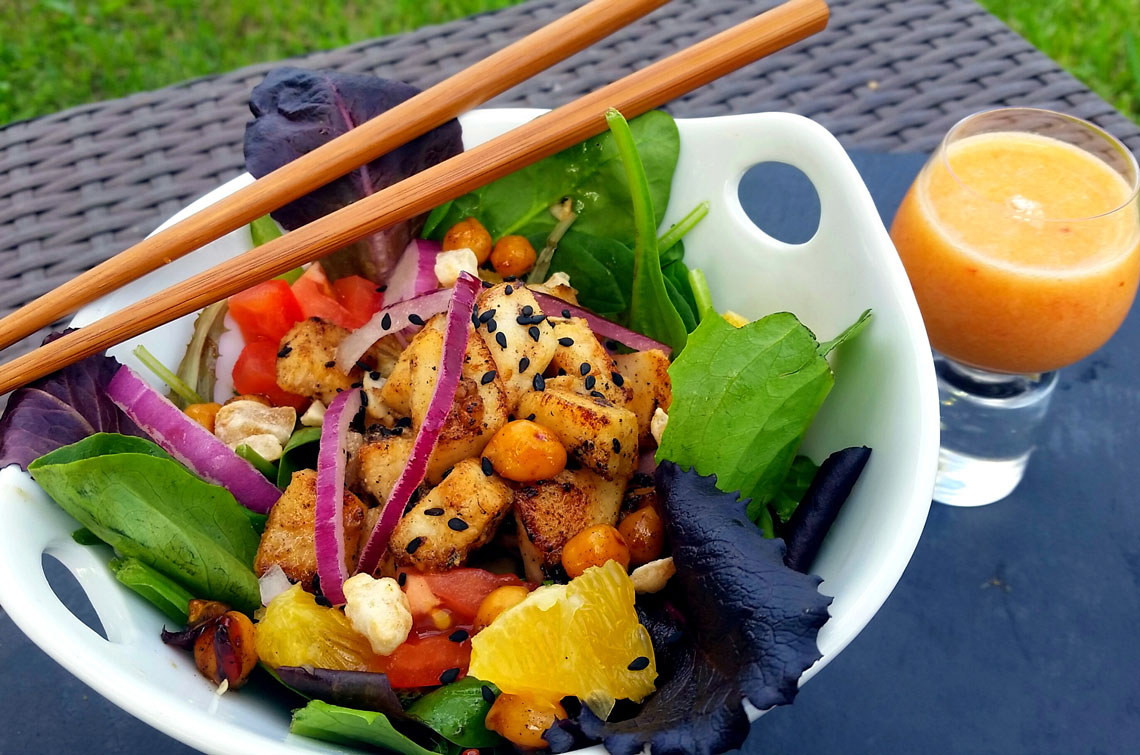 SALAD INGREDIENTS
200g of Sea Bass
50/50 blend, half spinach half spring mix
1/2 cup chick peas
1 Tbsp sesame seed oil
1 Roma tomato, diced
Crystallized Ginger
1 Mandarin, peeled and diced
1/4 Cup red onion, diced
1 Tbsp of garlic stir in paste
1/2 Tsp ginger stir in paste
1 Tsp Wasabi powder
A pinch of pink salt
1 Tbsp black sesame seeds
DRESSING INGREDIENTS
Half a mandarin, peeled
1 Tbsp vinegar
1 Tsp Ginger stir in paste
A pinch of pink salt
2 Tbsp of flour
Nutrition Facts:
246 Calories
23g
33g
2.6g
Steps to Follow
1

PREP & REFRIGERATE

First dice the sea bass into small cubes. Then, in a mixing bowl, combine the sea bass, chickpeas, ginger, garlic, wasabi, pink salt and oil. Cover it and refrigerate for about 20 minutes.
2

SEAR

Heat a medium frying pan, or wok, to medium-high temperature. Remember, the pan must be hot in order to sear the fish properly. Add the seasoned sea bass and cook until the outside is golden brown. Shake the frying pan to toss the fish around, so all sides cook evenly.
3

PREPARE THE DRESSING

In a bullet blender or high-speed blender, combine all the dressing ingredients until the mixture takes on a liquid form.
4

IT'S ALL ABOUT THE PRESENTATION

To plate, start with the spinach/spring mix followed by the fish. Then top with the diced tomato, onions, mandarin, crystallized ginger and sesame seeds. Then, ENJOY!
Make sure to follow ProTreats on Instagram and Facebook for more recipes and delicious creations!
www.ProTreats.com is now live! Visit their site to buy some ready-made, mouthwatering ProTreats made exclusively with BPI Sports protein!
Chef Geo is a member of Team BPI Sports.