Pushups will also raise your metabolic rate since there are so many muscles involved. Your heart will work harder and your breathing rate will also increase. With a higher metabolic rate during the pushup, as well as the recovery stage, this exercise can help you lose weight and build mass. The best part is that the pushup has many variations so you can challenge yourself differently from time to time, increasing your motivation and avoiding boredom in training.
For increased strength and performance when you attempt these pushup variations, try BPI Sports' newest pre-workout supplement: 1.M.R™. Thanks to an extreme combination of performance-enhancing ingredients including GBB-EEC, 1.M.R™ helps you maximize strength gains and athletic endurance to help you get a lean, hard physique. Besides amazing energy, the 1.M.R™ pre-workout formula will get you in the precise zone for next level results, working out with purpose and direction every time. With CHP-Choline and GABA, you'll be dialed in from the very first pushup with tunnel-like vision and unrivaled focus.
Get Out of Your Pushup Plateau:
The Wide-Grip Pushup
This is a simple variation on the traditional pushup. Start in a plank position, with your hands wider than your shoulders. Lower your body while keeping your back flat and eyes in front of you so your neck remains neutral. Keep lowering yourself until your chest grazes the floor and then push back up. If you feel too much stress on your wrists, turn your hands slightly inwards. The wider your hands, the more the pushup works your chest.
The T-Pushup
Work out your entire body with the T-pushup. Start in the traditional pushup position and lower your body to the ground. As you come to the top of your pushup, raise one hand off the ground and twist towards the ceiling, keeping your eyes on your raised hand. Your whole body will be in a T-shaped position. Lower your hand back to the ground. Repeat the entire motion with your other hand. Add a dumbbell to this pushup variation to make it harder and challenge yourself more.
The Single Leg Raise Pushup
This pushup variation intensifies the workout on the upper body and core. Simply perform a traditional pushup and lift your leg up as you lower your body down. On your next set, switch to the other leg.
The Single-Arm Medicine Ball Pushup
Start with a traditional pushup, but place one of your hands on a small medicine ball. This will challenge your stability, targeting the chest, shoulders and triceps. Make sure your legs are straight, with toes really grounded. Lower yourself until your chest almost touches the ball. You can also do this exercise with both arms on the medicine ball.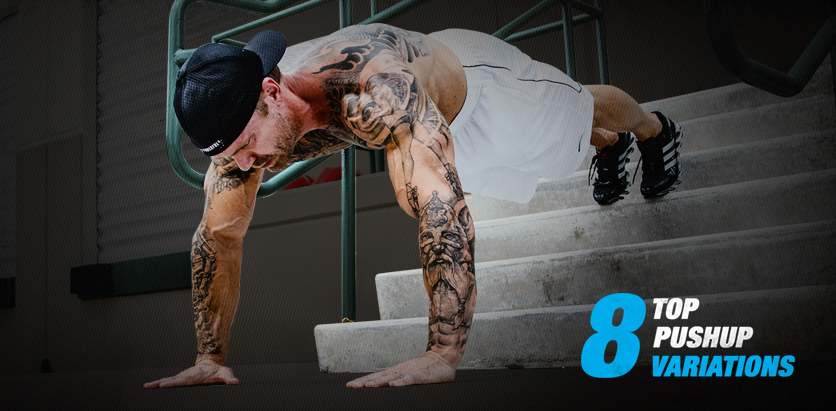 The Clap Pushup or Plyometric Pushup
This pushup variation includes clapping your hands at the peak of your pushup, mid air. Besides building muscle, the clapping push is a plyometric exercise that will help with explosive power too. Work on getting your body high enough and keeping hips and waist straight.
The Spiderman Pushup
Perform a standard pushup but raise one knee toward the elbow that's on the same side as you rise up. This pushup variation has you do an oblique crunch at the same time and adds in hip flexion. Your chest and arm muscles will work harder since the leg movement shifts your weight and your muscles have to adjust. This also increases resistance.
Band Pushup
With this pushup variation, you have to be as explosive as possible. Simply run a resistance band under the palms of your hands and wrap it around your back so you have a force to work up against. Make sure your elbows are tucked in and close to your sides as you lower your body down.
Elevated Pushup
Work out your core and upper body with the elevated pushup. Start out the exercise with a standard pushup but your feet should be placed on a stable platform like a bench for example. The higher the platform, the harder your shoulders, chest and core will work.