BPI Sports' s'mores collection includes Best Protein™ and ISO HD™ protein powder. The ISO HD is BPI Sports' purest low calorie protein formula, and is quickly absorbed so you can maximize the nutrients being delivered to your muscles. In fact, ISO HD has been nominated for the Bodybuilding.com Isolate Protein of the Year award. BPI Sports' s'mores flavor is also in our Best Protein Bar™ with 20 grams of protein. It makes for a delicious, on-the-go snack, but also a great way to help squash cravings.
To celebrate National S'mores Day, BPI Sports is bringing back some of our top recipes including protein shakes and more. Continue reading for ingredients and instructions on how to make your very own s'mores treat this August 10th.
Chocolate S'mores Protein Shake
Ingredients (makes 1 serving):
1 scoop of BPI Sports' Best Protein powder in S'mores flavor
8 oz. unsweetened almond milk
1/4 cup of Greek yogurt
8 drops of liquid Stevia
1/2 cup of mini chocolate chips + a bit more for topping
1 Tbsp coconut oil
2 large marshmallows
A wooden skewer
2 large strawberries
1 scoop of Cool Whip whipped topping
Nutrition Facts (per serving):
Calories: 365
Protein: 36g
Carbs: 32g
Fat: 10g

Instructions: Use a ceramic cup to melt the chocolate chips and coconut oil, stopping every 20 seconds to stir. Be careful to not overheat. Next, pour the chocolate inside the glass as you turn and place in the freezer, to set while you prepare the protein shake. Then, blend the BPI Sports Best Protein™ protein powder, almond milk, yogurt and liquid stevia and pour it into the chocolate-coated glass. Add the whipped cream and some chocolate chips on top. Take the skewer, add one marshmallow, followed by a strawberry, another marshmallow and another strawberry. Set your oven to broil and place the assembled skewer to brown the marshmallow. Then add it your decorative glass, add melted chocolate for extra sweetness and enjoy!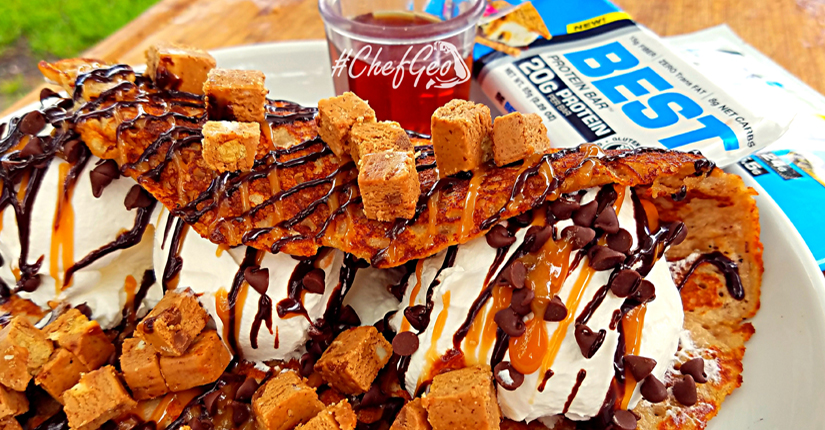 Stuffed S'mores Protein Pancake
Ingredients (makes 6 servings):
1 cup of buttermilk pancake & waffle mix with protein
2 scoops of BPI Sports Best Protein™ in S'mores flavor
1 tsp of cinnamon powder
1 cup of water
Walden Farms Chocolate Syrup
Walden Farms Caramel Sauce
1 BPI Sports Best Protein Bar™ in S'mores (cubed)
3 scoops of Cool Whip
Walden Farms Pancake Syrup
Nutrition Facts (per serving):
Calories: 426
Protein: 65g
Carbs: 39g
Fat: 3.5g

Instructions: Blend the protein pancake mix, the Best Protein™ powder, the cinnamon and water until the consistency is liquid-like. The mixture shouldn't be too thick or it won't fold. Then, pour ¼ cup of the pancake mix in the center of a pan over medium heat and let it spread out naturally. Do not swirl the pan around. Cook for one minute until it bubbles, then flip and cook for one more minute.
Place the cooked pancake on your plate and add 3 scoops of Cool Whip to one side of it. Don't place it in the center of the pancake. Drizzle some chocolate and caramel sauce, then fold the pancake like you would an omelet. Drizzle some more sauce over the pancake and top it all off with the cubed S'mores flavored Best Protein Bar™.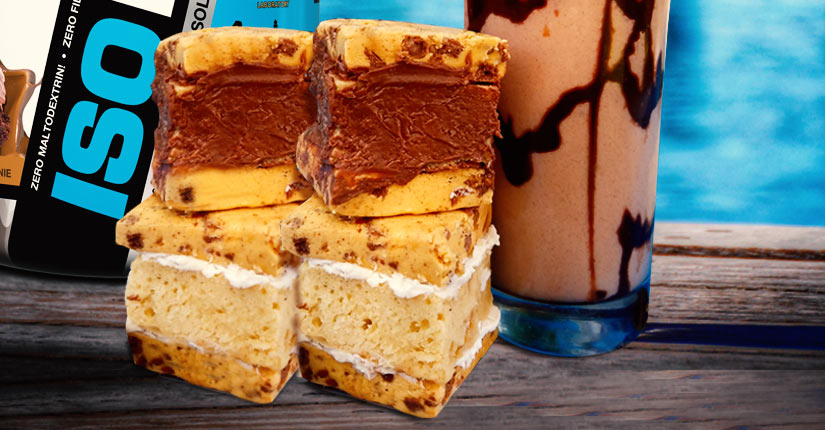 S'mores Protein Bar Sandwich
Ingredients (makes 1 serving):
2 scoops of BPI Sports ISO HD in S'mores
6 Best Protein Bars™ in S'mores flavor
1/2 cup of butter, softened (2 sticks)
3/4 cup of baking Stevia
1/2 tsp of baking powder
1/4 tsp of salt
3/4 tsp of vanilla extract
2 large eggs at room temperature
1.5 cups King Arthur Unbleached Cake Flour
3/4 cup almond milk
9×9 baking pan
Pillsbury® Creamy Supreme Sugar-Free Frosting in Vanilla or Chocolate
Nutrition Facts (per serving):
Calories: 426
Protein: 65g
Carbs: 39g
Fat: 3.5g

Instructions: Simply preheat your oven to 350 degrees Fahrenheit and lightly grease your pan. In a mixing bowl, beat together butter, sugar, baking powder, salt and vanilla on medium-high speed until the mixture seems pale and fluffy. It should take about three minutes. Next, add one egg at a time, still beating and thickening the mixture. Make sure to scrape the mixing bowl after every egg. Then add in the flour and beat some more.
Pour the mixture in the pan and let it bake for about 24 minutes. Place a toothpick into the center of the cake, and if it comes out clean, you'll know it's ready. Cool off for 15 minutes and loosen edges with a knife before frosting. Finally, spread on a thin coat of frosting on both sides of the cake. You can use a cooling rack to help. Then sandwich three Best Protein Bars™ on the bottom and three Best Protein Bars™ on the top. Trim off excess cake and cut into smaller pieces.
So, which recipe do you think you'll try to recreate?
Happy National S'mores Day from all of us at BPI Sports!