Nutrition
Happy Healthy Valentine's Day!
Chef Geo of ProTreats shows us how to turn a healthy, protein powder-based recipe into a decadent Valentine's Day treat with the help of BPI Sports Best Protein™—The perfect blend of high-quality 100% whey proteins that'll seduce your tastebuds in just on sip! One scoop of this superior supplement has 24g of protein and helps build lean muscle. So in other words, it's the dessert that loves you back!
Ingredients
Recipe yields: 1 Shake
1 scoop of BPI Sports Strawberry Cream Best Protein™
8 oz of cashew milk
5 ripe strawberries
1/4 cup steel cut oats, cooked
Half a banana
2 tbsp of Chia seeds
Whipped cream
5 drops of liquid Stevia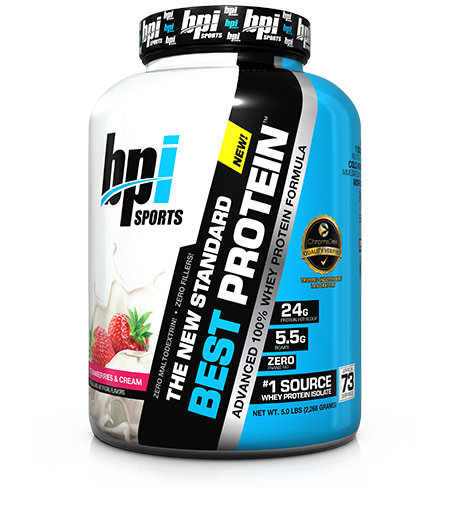 Learn More
Steps to Follow
1

GATHER ALL YOUR INGREDIENTS

So grab all of your ingredients from your creamy cashew milk to your enticing strawberries and don't forget your Strawberry Cream Best Protein™. It has no fillers or food additives, just delicious taste!
2

BLEND, BLEND, BLEND

Simply place all of your ingredients in a quality blender to make sure everything is mixed in properly, so all of the important nutrients are released. You'll get a rich, smooth texture that's simply irresistible. Add ice for a thicker and more decadent healthy dessert.
3

TEMPT WITH WHIPPED CREAM

Top off this healthy Valentine's Day dessert with none other than America's favorite topping: whipped cream, of course. The creamy dollop will add creaminess and gloriousness to your drink. For a crunchy kick, decorate with more chia seeds.

Make sure to follow ProTreats on Instagram and Facebook for more recipes and delicious creations!
www.ProTreats.com is now live! Visit their site to buy some ready-made, mouthwatering ProTreats made exclusively with BPI Sports protein!
Chef Geo is a member of Team BPI Sports.