The Ultimate Summer Fitness Guide
May 3, 2016
Team BPI and the BPI Bombshells have put together the ultimate summer fitness guide just for you!
Working out while on vacation? We've got your training covered. Need some inspiration for some family-friendly road trip snacks that won't make you fat? CHECK. How about ideas for your next beach trip? We've got that, too. Healthy inspired cocktails? Yes indeed.
It's all right here in the ULTIMATE BPI SUMMER GUIDE. Share YOUR summer journey by hashtagging #BPISUMMER on Instagram.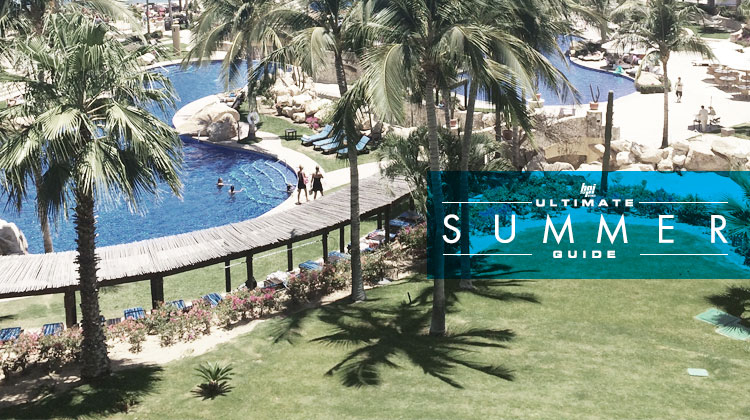 GET YOUR SWEAT ON, ON VACATION:
By: Jacqueline Kasen
http://instagram.com/kasenfitness
Whether your summer consists of vacations, beach days, or just some good ol' fashion relaxation, here are a few short circuits for each level (beginner, intermediate, advanced) to stay active wherever the summer heat takes you! Get outside and get sweating with these Beach Body Circuits from celebrity trainer and BPI Bombshell, Jacqueline Kasen.
30 seconds MAX effort, 1 minute rest for each exercise. No equipment needed, just your body! If you are unsure which level is right for you, start with BEGINNER and work your way up.
BEGINNER:
Alternating Stationary Lunges
Modified Plank (in basic plank position, drop knees down to floor and leave them there)
Repeat 3x
Lateral Lunge
Lateral Step with Alternating Squat
Repeat 3x
Modified Push-Ups (in basic push-up position, drop knees down to floor and leave them there)
Step Out Burpees (walking feet out to push-up position instead of jumping out)
Repeat 3x
INTERMEDIATE:
Dynamic Warm-Up
Alternating Walking Lunges
Single Leg Vertical Jumps (alternating legs)
Repeat 3x
Lateral Lunge with High Knee
Lateral Step Holding the Squat
Repeat 3x
Modified Push-Ups with Alternating Shoulder Taps
Step-Out Burpees
Repeat 3x
ADVANCED:
Dynamic Warm-Up
Alternating Walking Lunges with Kick Back
Scorpions with a Jump
Repeat 3x
Transverse Lunges with High Knee
Lateral Side Shuffles
Repeat 3x
Full-Body Push-Ups with Alternating Shoulder Taps
Burpees
Repeat 3x
ROAD TRIPS, BBQS, BEACH DAYS, OH MY!
By: Sarah e. Evans
http://instagram.com/SaraheEvans_livingfitnclean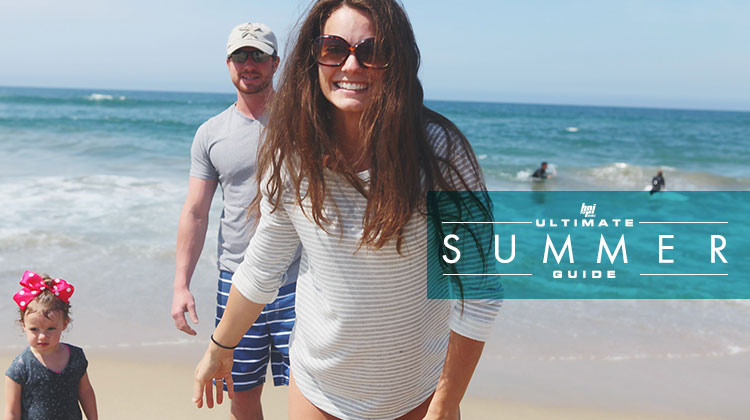 Oh, summertime and all of the fun activities that comes with it. With the abundance of unhealthy food usually served at these things (and the abundance of fast food restaurants that exist along the highway) it can be rather difficult to steer straight on your plan. Take into consideration these healthier alternatives to serve or take along with you that won't leave you feeling like you busted your diet. Parties, small get-togethers, and vacations are all things to be enjoyed during this time– don't let some bad food choices ruin all that you've worked for. After all, it's summer…aka swimsuit season. Always. Be. Prepared.
ROAD TRIP:
Peanut Butter Protein Cookies (peanut butter… need I say more?)

No Bake Recipe:

½ cup protein powder (flavor of choice)
3 tbsp honey
3 tbsp natural peanut butter
½ cup quick cooking oats
*Combine all ingredients and form into discs or balls. Let sit in refrigeration to set before consuming.

Homemade Baked Apple Chips (for when you need a chip-like crunch)

Simple Preparation:

Slice apples thinly, sprinkle with cinnamon.
Bake at 250 degrees for 45 minutes
Store in air tight container.

Trail Mix (because who doesn't love that consistent hand-to-mouth snacking?!)

Tips: Make your own by using pretzels, dried fruit, nuts, and of course a little dark chocolate
BACKYARD BBQ:
Grilled Asparagus: Season with garlic and lemon then grill for a nutty crisp flavor.
Hamburgers: The classic summer staple! Use the leanest beef/turkey possible and add a little ketchup to your mix before forming your patties to make them extra moist (since meats that are lower in fat tend to dry out faster).
Lemon Iced Tea: a little something sweet to sip on never hurt anybody. Use stevia (or your favorite sugar substitute) to sweeten and some fresh lemon juice for a citrusy, refreshing flavor.
Homemade Strawberry Banana Popsicles: A great way to cool off in the heat of the summer and makes for a refreshing dessert (super simple, too!)

Recipe:

2 cups sliced strawberries
1 banana
4 cups coconut water
Stevia (or other sugar substitute, to taste)
*Combine all ingredients together in a blender until smooth. Pour into popsicle molds. Freeze for 2 hours before serving. Enjoy!
BEACH DAY:
Fresh Fruit Salad: Slice up fruit that can hold up for a while. Melons and berries are great because they don't brown quickly. Mix with some fat free cool whip for a cool summer treat.
"Sour Patch" Grapes: Using sugar free jello mix, coat the grapes in the mix and then freeze for a healthy candy-like treat (that you won't be able to stop eating!)
Veggies with Hummus: For the savory lovers – slice up some carrots, celery, and cucumber sticks with some hummus for a light snack you can enjoy without feeling bloated in those swimsuits!
SUMMER GUIDE TO LOOKING BOMBSHELL-CHIC (For the Ladies)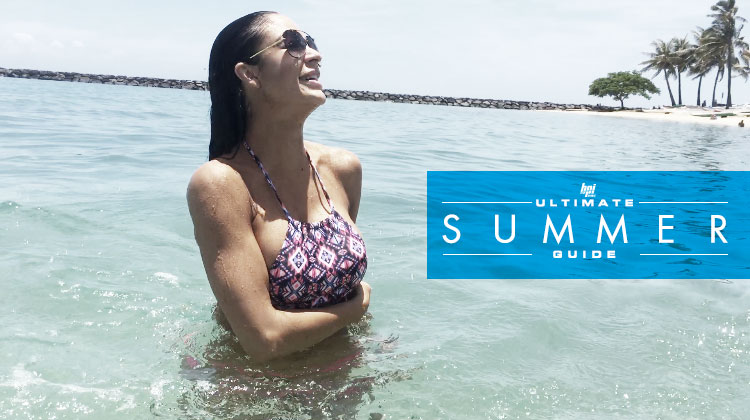 It has been quite the winter, especially here in New England. While the Spring season has almost flown by in a blink of an eye, we are finally onto one of my FAVORITE seasons…SUMMER! Here are a few trends I've been following for the season, as well as my personal input to looking your best ALL SUMMER LONG!
Clothes:
Floral print looks like it has made a huge comeback this season! Bold prints and patterns are a must, in addition to lace, fringe, and the ever so popular "boho chic" style. High-waisted pants/shorts, crop tops, skirts, rompers, jumpers and maxi dresses are some of the trendiest styles for Summer 2015. I love wearing anything flowy and loose, especially during the hotter months because the material is light, making it more comfortable. My go to outfit is always a maxi dress, since I can dress it up or down, depending on the occasion.
Colors:
Pastels and summer go together like a match made in fashion heaven. Shades of blue, especially aquamarine, as well as lavender, are THE colors of the season. Lucite green, tangerine and Marsala are also topping the list, but let's not forget about our basics: white, beige, yellow-gold, and pinks.
Shoes:
Who doesn't like a cute pair of shoes? Platform sandals, gladiator sandals and the oh-so-back-to-basics flip flops are my summer essentials. Easy slip-ons, comfortable on the tootsies and you can find a pair for every occasions. I'm currently really into neon, bright colored sneakers. My favorite brand is Asics, since they are the most comfortable for my joints and feet, especially during sprints and more beastly workouts.
Activewear:
My go to bottom brands for being active is Athleta. While I love some of the other popular brands, Athleta seems to be most flattering and comfortable for my body. Plus, you can't beat the lifetime guarantee they offer on their clothing. Bright colors and funky patterns are the rage in gyms across the world right now. I tend to mix up my active tops and sports bra, mainly being able to find a bargain at discount stores such as TJ Maxx and Marshalls. (Who doesn't like a deal?)
Enjoy your summer and make the most of it! Stay fit, stylish, and comfortable.
SUMMER VACATION TRAVEL TIPS FOR STAYING FIT
By: Abbie Burrows
http://instagram.com/AbbieBurrows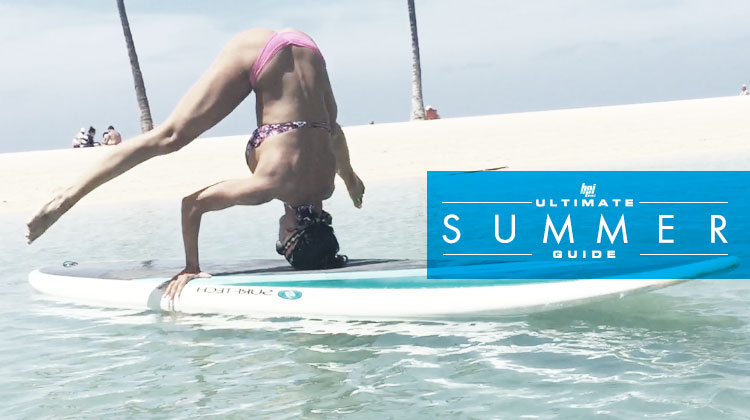 Making sure you keep up with your workouts while you're traveling can be challenging. Between all the delicious and different food options, days jam-packed with touristy activities, and little or no access to a gym, here are some tips to prevent your fall out with fitness while still enjoying your time away:
Bring the gym with you. Most of the time there isn't a gym close by to visit while you're traveling, and let's face it, finding a gym to workout in is the least of your vacation priorities. Instead, bring some small/light equipment with you! Resistance bands, a yoga mat, and workout videos (on your phone or tablet) makes for the perfect in-room hotel mini gym. Getting a little sweaty in your hotel room before you start your day is better than nothing!
Get physical! When vacationing, plan some activities that require you to MOVE. Hikes, paddle boarding, surfing, snorkeling, long walks on the beach….see where I'm going with this? Some of these activities are all day events which can do wonders for your body and allow you to fully enjoy your vacation.
Eat mostly right…with a little wrong. Yes, you will be indulging a bit if you are vacationing, but forgoing alcohol with every meal and keeping the greasy, fried foods to a minimum will help avoid the fitness crash. If it is a work trip, stick with the basics as much as you can: lean protein, complex carbs and veggies. It is possible to ask your server for the chef to prepare the basics for you. Nearly every restaurant has the ability to prepare a grilled chicken breast, some steamed veggies, and some rice or potatoes WITHOUT the salt, grease, and other added oils. Eating out every meal can be OK if you select the healthy options from time to time. If you do indulge a little (which you should because you are on vacation), drink plenty of water throughout the day and after the meal. Bounce right back the next day.
Get plenty of rest. One of the best things you can do for your body is get enough sleep. This helps repair your muscles and restore your energy levels. Work trips can be strenuous, with early meetings and late night functions so do your best to get at least 8 hours. Vacationers should have a much easier time for this; after all, the purpose of vacation is to take a break from the stressors of everyday life that may inhibit your body to transform.
Rest, relax, nourish your body, and stay active next vacation. Your body and mind will thank you.