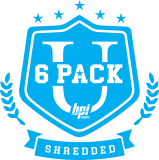 Transform your body and show us your 6 pack to
Win $1,000
with this free advanced ab program
Want to WIN $1000 for getting shredded this year? SHOW US YOUR ABS & WIN! We're giving away some incredible prizes to the fans who can build the BEST ABS! Join the 6 Pack University Program today and sign up for our 4 Month BEST ABS contest. Details Below
Register to win $1,000
& Download Free Program
See Terms & Conditions
Contest Duration Jan 1 – Mar 31
4 steps to shredded
6-Pack Abs
BPI SPORTS has designed 6 Pack University to help you build washboard abs and lean muscle. 6 Pack University is comprised of an easy-to-follow carb cycling nutritional plan, ab exercise guide and a cardio workout schedule. TEAM BPI Athletes such as 2016 Ms. Olympia Bikini Courtney King, Arnold Classic Champ Jose Raymond and BPI SPORTS' own James Grage and Whitney Reid give you insight into their favorite ab routines and how carb-cylcing has helped them become role models in the fitness industry.
Register to win $1,000
& Download Free Program

4 easy steps to
6-Pack Abs

Determine your Lean Body Mass & Customize Your Nutrition Plan, with Included Body Fat Calculator Kit.
Step By Step Nutrition & Supplement Program To Maximize Lean Body Definition.

Shed The Pounds With Our Fat Melting Cardio Program!

Sculpt that 6-Pack with the included Abdominal Workout Plan.